Side license plate support for HARLEY-DAVIDSON FXST 107.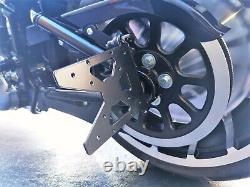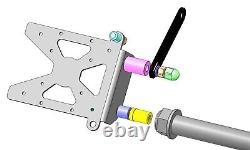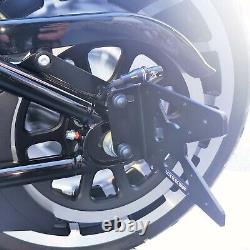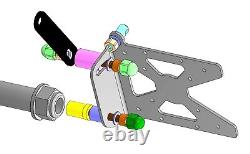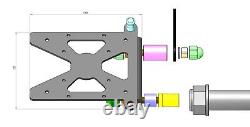 SIDE LICENSE PLATE HOLDER FOR HARLEY-DAVIDSON FXst 107. This holder is made up of two parts that can be adjusted to change its inclination.
It is placed on the flat surface of the hexagonal head of the swingarm wheel axle. An M8 threaded neoprene insert is housed in the diameter of the wheel axle, which inflates when the plate support is tightened. The holder is made of 3mm thick steel to prevent vibration. The bracket is attached to the chain case mounting, which holds the side plate support.
The fixing system gives it rigidity and absorbs all vibrations. The plate support is coated with high-quality black epoxy paint.
It comes with CE standard LED plate lighting and a heat-shrinkable sleeve to connect the lighting to your original wiring harness. You can choose to place your license plate light up or down - either way, the license plate will cover the entire holder. All French and international license plates can be mounted on the side license plate holder.