Rotor Stator Alternator HARLEY DAVIDSON FXSTC Softail Custom 1989-1999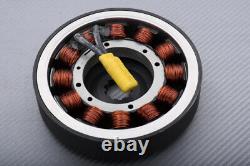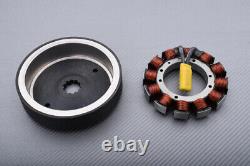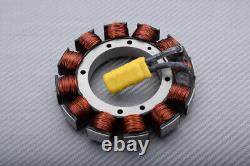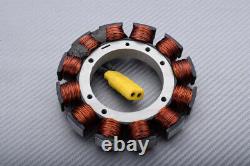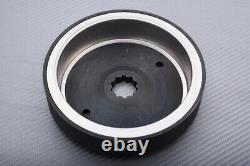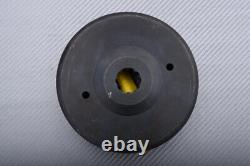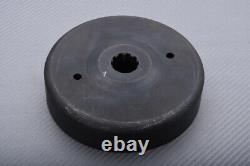 This item is compatible with the models and years of motorcycles mentioned in the title of the ad. Sold as shown in the photos. These photos are for example purposes, they give you an idea of a similar product once installed on the motorcycle, but may not necessarily pertain to the article for your motorcycle. To see the photos of the product you will receive, refer to the main photos of the ad!
No modifications are required during installation, easy and perfect adaptation. Your beauty is giving you trouble, lack of energy, and refuses to roar despite all your attempts and all your little attentions? You've tried wiggling the ignition with your key, pushing it, but nothing works and it still lacks power? It stays there, huddled in its corner, leaving you frustrated.
So here you are with your immobilized beauty. It may be that its alternator has given up. Unless it was due to an accident that took out your alternator cover and everything it contained, in which case the conclusion is as quick as it is precise.
In case of breakdown and for safety reasons, remember to first check the condition of your battery (making sure it is fully charged to avoid false readings) and your regulator, for example. If the regulator is no longer functioning, unfortunately changing the regulator will not solve anything. If in doubt or if you lack equipment or knowledge, do not hesitate to ask a professional to diagnose the problem for you (to ensure that the results are relevant). After conducting the checks, the verdict is in: it is indeed the stator that has failed. You have only one solution left: to replace it.
But the prices from dealers can quickly drain the little energy you have left. Fortunately, AVDB has taken care of you by developing its catalog to include a range of alternators modeled on the original ones for an adaptation without modification, in place of the old one and with plug and play connection. A turnkey solution to bring your beauty back to life in just a few minutes! AVDB is confident in the durability and quality of its range of stators/rotors, which is why it is one of the few companies to offer a warranty on this product. Of course, as this type of failure may occur as a result of malfunctions related to other elements of the motorcycle, such as the rectifier regulator or the battery, for example, we will ask, in the event of a warranty claim, and in order to ensure that the problem is indeed due to our stator and not to your motorcycle, for proof of installation by a professional who will have previously tested and approved the mechanical condition of the motorcycle. If these elements are provided, then you are entitled to a one-year warranty from the date of purchase. In a few words, an alternative solution at a biker's price, in stock in Toulouse to be delivered to you as soon as possible and bring a smile back to your face, and to your two-wheeler! Product in stock in France. Parcel sent with tracking within 24 business hours. A quality product that meets the description. TO GET TO KNOW US BETTER. AVDB Moto is a French company and brand, created and based since 2011 in the south of France, where life is good, where it is good to ride. Over the years, we have specialized exclusively in motorcycle accessories. Our catalog has grown considerably and continues to evolve over time, with several tens of thousands of carefully stocked references in over 2000m² of warehouses located just a few meters from our store and offices.
Having a catalog rich in several thousand references is good, but for AVDB, it is not enough. It is essential for us to have them available in stock. Therefore, we only sell products that we are able to deliver to you without delay. When you order from our shop, we ship your parcel within 24 hours.
And if a stock error were to occur, then we will do everything in our power, also within 24 hours, to find together the solution that suits you. The seriousness and helpfulness that we demonstrate daily in our store have contributed to building a lasting and trustworthy relationship with the bikers in our region. We apply this same passion and philosophy with all the customers we interact with, whether it be over the phone or behind a screen. We make every effort to ensure this full satisfaction of our customers, which includes. Do you have any doubts or questions about the part? The advantage of having it in stock and within reach allows us to check it directly and provide you with an answer.
AVDB is a French company, but also a European company. Our ambition is to serve the rider wherever they are, and in the best possible way. That's why we have an international team within our organization, which offers you the possibility of exchanging not only in French but also in English, Italian, German, and Spanish. What better way to communicate and understand each other!
In case of a problem? At AVDB, you benefit from a available, competent, and personalized service. If upon receipt of the product, it does not meet your expectations, we can find an amicable solution if you wish, and of course, returns and refunds will never be problematic. And if the product is faulty in the months following its purchase, know that it is subject to a warranty that we will not try to avoid. Beyond just a sale, you can count on the full availability and dedication of our AVDB team to serve you and make you a satisfied biker.
Do not hesitate to contact us to learn about your benefits! AVDB MOTO - 7 RUE GUSTAVE EIFFEL 31140 AUCAMVILLE - FRANCE From Monday to Saturday, from 10am to 1pm and from 2pm to 6:30pm.
To follow us, exchange, and get to know us even better, we are also present on. In accordance with the legislation on extended producer responsibility and Article L. 541-10-13 of the French Environmental Code, AVDB MOTO has a unique identifier to ensure compliance with its obligations for the products it distributes: Household Packaging - CITEO - IDU: FR314634_01JJDL Household Packaging - LIZENZERO - LUCID: DE2597756035494.