Lithium Motorcycle 1340 Harley Davidson Heritage Softail Classic 1993 Bctx20h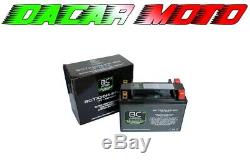 Lithium motorcycle battery harley davidson 1340 softail heritage classic 1993 bctx20h. This product has been automatically translated. If you have questions, feel free to contact us.
Bctx20h-fp-sq is a lithium battery for beginners, ideal for motorcycles, scooters, snowmobiles, jet-skis, lawnmower and quads. Ultra light and lifetime warranty, the charging time is greatly reduced compared to other batteries. Datasheet: battery type: LiFePO4 - voltage lithium iron phosphate: Spunto 12 volt (AC): 420 Weight (kg): 1.4 Dimensions (mm): 175x87x130 capacity (ah): 7 lead battery code / corresponding acid : gyz20h - ytx20h-bs - ytx20-bs - yb16-b-cx - yb16-b - yb16c-b - yb18-a - y50-n18a-a - gyz20l - gyz20hl - YTX20HL - YTX20HL -bs - ytx15l-bs - ytx18l -bs - YTX20L-bs - yb16hl-a-cx - y50-N18L-a-cx - yb16l-b - yb16l-a2 - yb16cl-b - yb18l-a - yb18l-a - yb18l-a - y50 -n18l-a - y50n18l-a2 - y50n18l-a3 - syb16l-b - SY50-N18L Has polarity: universal 4 poles - negative pole right / left, positive left / right pole. The advantages of lithium batteries bc. Lifetime: more than a year. Safe even for sporting use. You will find below our best battery chargers and maintainers charge. Universal Car Battery Charger Universal Battery lead-acid / l. Itio junior bc bc 900. The benefits of lifepo4 battery.
Up to 80% lighter than conventional lead / acid batteries. High current, up to 50 times the battery capacity (more than three times that of lead / acid batteries). Charging and discharging almost 2000 cycles, against 300/400 disposable batteries.
Batteries ecological and environmentally friendly, they do not contain acids or heavy metals (lead, cadmium, mercury). Fast charging, the slow self-discharge. Non-combustible and non-explosive, no risk of chemical leakage. Safe to use even for sporting use. Load times reduced, supporting high currents (up to 10 times the battery capacity) and hold a charge for long (low self discharge). It is recommended to recharge the batteries every three months in the case of prolonged storage shelf.
For information please contact us during office hours. 09:00 14: 00-15: 00 7:00 p. Tel: 0039 08119029720
brand: bc-batteries <\/ li>
manufacturer part number: bctx20h <\/ li> <\/ Ul>